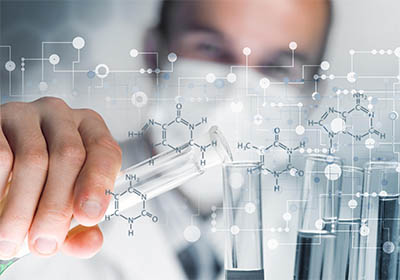 One-stop
Drug Discovery Services
Experienced and qualified scientists functioning as project managers or study director
Independent quality unit assuring regulatory compliance
Methods validated per ICH GLP/GMP guidelines
Rigorous sample tracking and handling procedures to prevent mistakes
Controlled laboratory environment to prevent a whole new level of success
Cellular assays in Hit Characterization
INQUIRY
Cell-based assays assess the efficacy of compounds in a cellular environment, which is crucial to understand compound behaviors in a biological system. Some cellular assays are applied for the identification or quantification of a specific response to an external stimulus, and other assays can measure cellular health such as toxicity effects of cultured cells during or after treatment with various stimuli. Cell-based assays allow compound screening at physiologic pH, ion, and co-factor concentrations, which provide help to investigate the potency of novel drugs in more complex systems after primary screening.
Application of Cellular Assays
It becomes easier for scientists to determine the in vitro-in vivo correlation (IVIVC) of effective dose prediction using cell-based assays.
Cellular assays are applied in identifying a diverse array of pharmacological chaperone compounds, such as evaluating the activity of biology modulators.
As a primary functional/phenotypic tool, cell-based assay is used as an important readout for targets including ion channels and GPCRs, showing great abilities of identify one or more classes of compounds.
Cellular assays are able to modulate the activity/phenotype of the biological model system in the early phases of drug discovery.

Fig.1 The schematic of cellular assay method (to identify compounds with a low cytotoxicity and cell viability, cellular stemness and tumor sphere formation assays were performed in parallel). (Mayuko, N.; et al. 2014)
Our Readout Capabilities
We perform multiple types of cellular assays with multi-mode readouts at BOC Sciences to meet diverse needs of cell population measurements:
Fluorescence: FI, FP, FRET, TR-FRET, HTRF, DELFIA, LANCE and Alpha.
Luminescence: Reporter genes, ELISAs.
Cellular Calcium Mobilization: FLIPR.
UV-VIS absorbance.
And other advanced technologies for cellular assays including: Immunoassays, Imaging, Cytometry and LC-MS (for metabolite quantification).
Other Multiple Levels of Readout
We also have conducted evaluation of cell-base events at different levels in the path toward functional responses:
Proximal signaling readouts
Reporter gene fusion or immunoassays for stability assay.
Split reported systems for interactors assay.
Immunoassays or LC-MS for activity assay.
Immunoassays or imaging for calcium for secondary messengers assay.
Reporter-distal readouts
Split reporter or via imaging for sub-cellular localization assay.
Immunoassays for pathway activation assay.
Reporter assay or qRT-PCR for transcriptional assay.
Functional/phenotypic readouts
Cytometry for cell cycle assay.
Metabolindc a imaging readouts for cell proliferation assay.
Imaging for morphology assay.
Imaging and cytometry for differentiation/ trafficking assay.
Metabolic activity assay and other specific readouts (ADCC).
Cellular Models
To allow for the best flexibility and highest success, our expert teams have developed a range of cellular models and are experienced in the handling of assays of different cellular models.
Human primary cells: Disease-relevant cells can be useful by making an earliest prediction on how a compound will translate to clinic when you want to develop a vitro assay. BOC Sciences owns a cell bank with more than 25 primary cell types, helping you to establish cellular models in therapeutic areas such as oncology, neuroscience, immunology and so on.
Stem cells: Our teams have expertise in using induced pluripotent cells (iPSC) to produce cells with varied tissue types. We can also provide additional guidance on stem cell culturing and differntiation with our extensive reprogramming technology.
CRISPR engineered cells: Our CRISPR engineers have a wealth of experience in dealing with multiple edits and enable to rapidly deliver distinct cell lines you need. We support your discovery project by performing genetic manipulations in a fast, accurate and cost-effective way, helping you to identify new disease targets and test therapeutic efficacy.
Our Advantages of Cellular Assays Services
BOC Sciences has developed a range of platforms to provide ready-to-use and customized cell-based assays which allow our clients save their time.
Our team focuses on assisting in comprehensively characterizing biological activity and potency of small molecules, helping to accelerate your drug discovery project.
Our cell-based bioassays are fully GMP compliant, providing cost-effective quality testing services which will secure your biopharmaceutical development process.
Equipment
MoleCular DeviceS' Innovative FlipR Penta systems (FLIPR).
Perkin Elmer Envision Multimode Plate Reader (Absorbance, Fluorescence Luminescence).
Agilent Cary 60 UV-Vis (UV-VIS absorbance).
Agilent 6470B Triple Quad Pole LC/MS (LC-MS).
Agilent NovoCyte Flow Cytometer Systems 1-3 Lasers (Cytometry).
Thermo Fisher Luminex xMAP systems (Immunoassays).
Thermo Fisher EVOS M7000 Intelligent Imaging System (Imaging).
Reference
Mayuko, N.; et al. Induced cancer stem-like cells as a model for biological screening and discovery of agents targeting phenotypic traits of cancer stem cell. Oncotarget. 2014, 5(18): 8665-8680.
※ It should be noted that our service is only used for research.
Online Inquiry