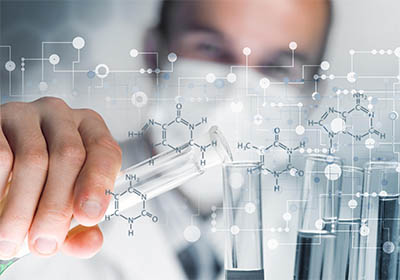 One-stop
Drug Discovery Services
Experienced and qualified scientists functioning as project managers or study director
Independent quality unit assuring regulatory compliance
Methods validated per ICH GLP/GMP guidelines
Rigorous sample tracking and handling procedures to prevent mistakes
Controlled laboratory environment to prevent a whole new level of success
High Throughput Sequencing
INQUIRY
In order to address the drawbacks of DNA-encoded library selection such as non-specific binding of compounds, lower enrichment factors, a large numbers of false positive compounds, etc. DNA amplification and sequencing methods are applied to provide a selection approach with higher stringency.

Fig.1 A protein of interest (POI) is immobilized on a surface and incubated with a DEL, depletion of the non-binding compounds by washing steps is followed by elution of the binding compounds and the DNA-tags of the selected library are PCR amplified and sequenced by massive parallel sequencing. (Verena, K.;
et al
. 2018)
Principle of High Throughput Sequencing
The interaction between DNA-tagged target proteins and small molecules can lead to DNA hybridization and formation of a hairpin structure. The structure then encodes the binding molecule and the target protein after primer extension and DNA-amplification. The interaction-dependent PCR (IDPCR) has the potential to detect ligand-target interactions of varying affinities in a multiplexed format and the binding of DNA-tagged target proteins and DNA small molecule conjugates can be evaluated successfully.
Process of High Throughput Sequencing
The whole process of DNA amplification and sequencing can be seen as a solution-based incubation method, in which the molecule of interest is added into and only the DNA barcodes that are attached to bound chemicals are allowed to be amplified. In this process, protein-oligonucleotide conjugates act as a primer for bound molecules and stabilize the DNA heteroduplex formation and facilitates the initiation of a PCR amplification process.
Our Sequencing Services
BOC Sciences has established an advanced sequencing platform equipped with different sequencers which can provide multiple sequencing throughputs.
We also offer stable and flexible sequencing capacity ranging from 115 M to 6400 M reads to adapt to timely DNA sequencing under different combinations of screening samples.
Our teams deliver the optimal results with sequencing quality of average Q30≥85% and we guarantee all the sequencing projects will be finished no more than two days.
We provide the optimization of PCR method in our sequencing platforms.
Combined with our professional DNA-encoded library technology, BOC Sciences delivers integrated services from screening to sequencing to data analysis.
Our Sequencing Advantages
We have developed a mature workflow and are skilled in sequencing of DNA encoding libraries.
We are capable of abundant sequencing application and project experiences.
Our knowledge of pharmacogenomics offers deep insight into the sequencing technology.
Reference
Verena, K.; et al. DNA-encoded libraries - an efficient small molecule discovery technology for the biomedical sciences. Biological Chemistry. 2018, 399(7): 691-710.
※ It should be noted that our service is only used for research.
Online Inquiry